Are you ready to take the adventure to the next level? Become an annual member for as low as $50 per month and take advantage of some awesome perks:
Unlimited access
to select activities
Special members-only events
Retail savings at the park or online
​
Discounts on food & beverage, events, classes, and more!
Memberships are closed for 2021. Please check back to this page in 2022 for updates on new membership options.
​
ALL EXHILARATE ACTIVITIES ARE FEE-BASED AND REQUIRE SIGNED PARTICIPATION WAIVERS.
​
PLEASE REVIEW PARTICIPANT REQUIREMENTS BEFORE BOOKING YOUR ADVENTURE.
​
All activities proceed rain, snow, or shine unless otherwise stated by The Forge: Lemont Quarries staff. In the event of adverse weather, some or all activities may be unavailable. Guests with impacted reservations will be communicated with via email and announcements made on our website and social channels. Please check weather conditions prior to purchasing any activity pass.
​
All purchases are non-refundable and non-transferable.
​
Become an Annual Member of The Forge: Lemont Quarries! Receive free admission, unlimited access to all waiver-based activities in the park, discounts, and Members Only benefits.
10 Digit Membership Code Reservation
Membership FAQ
Which activities are included as part of my Annual Membership?
---
As a reminder, annual members receive unlimited access to the following activities: • Adult & Youth: Ropes Courses, Climbing Towers, Ziplines, Bouldering Park, Two Towers Adventure Kids Zone, Paddlesports, Mountain Bike Skills & Pump Tracks, Non-Ticketed Concerts/Events/Festivals • Little Adventurers: Two Towers Adventure Kids Zone, Paddlesports, Mountain Bike Skills & Pump Tracks, Non-Ticketed Concerts/Events/Festivals
---
Are there any additional membership discounts and benefits?
---
Yes! Additional membership discount and benefits include: • 10% off Retail • 10% off Food & Beverage (Alcohol not included) • 10% off Group Classes, Training & Certifications • 10% off Ticketed Music & Film Festivals • 10% off Tactical Laser Tag • 10% off Augmented Reality Adventure Games • Sneak Peaks & Early Access
---
Do Members need to make a reservation or can I just show up?
---
We love our members but we do still need you to make a reservation in advance of visiting us at The Forge: Lemont Quarries. By implementing a required reservation, we are able to control the number of people who are in the park at any given time
---
Why do I now have to reserve a time for each activity?
---
Great question! Based on member feedback from the 2020 season, we have switched to session based activities to guarantee availability for our guests and decrease wait times within the park.
---
Can I make multiple reservations on the same day?
---
Yes, as an annual member there is no limit to the amount of reservations you can make!
---
How do I make a reservation as an Annual Member?
---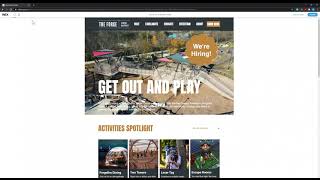 Please watch our new video tutorial above on how to make a reservation through our website. Similar to last year, you will continue to use your provided code to book activities for the 2021 season. Step 1: Determine the activity you wish to book Step 2: Select which time you plan to participate in the said activity Step 3: Add any additional activities you would like to do during your visit Step 4: Check-out - put in certificate number, etc Step 5: Get ready for an adventurous day at the park!
---
Where can I find my Member ID?
---
Your Member ID can be found in your confirmation email you received upon purchasing your membership. Please note that the Redemption Code listed is your Membership ID.
---
If I need to cancel my reservation, what should I do?
---
Can't make it to the park for your reservation? You can easily cancel your reservation online to open up availability for other members! Please watch this video below on how you can cancel or change your reservation.
---
I watched the Members Booking Tutorial video but I'm still confused. What do I do?
---
If you'd like to speak with a representative directly, feel free to call us at 630-326-3301 and we'd be happy to help you make your booking.
---
---